Microsoft Windows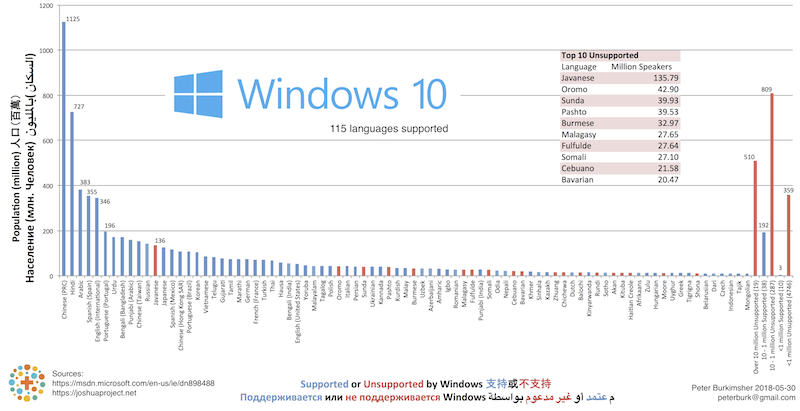 Figure 1 - Windows Languages over 10 million
This is the first of many graphs! Click it to see a larger version. The most striking feature is the curve: an exponential decrease. A lot of people speak Chinese, Hindi, Arabic, Spanish, and English. The 115 Windows languages include 78.9% of the world population. What about the other 21.1% = 1,712,940,580 people? Unsupported languages are marked in red. Each looks small, but they add up. On the right-hand side, there are aggregate bars. It is good to make blue bars taller and red bars shorter. "Over 10 million Unsupported (19)" means 19 languages with over 10 million speakers do not have a localised Windows version. The data label "510" by the red bar means that by adding those 19 languages, it would reach
510 million people
. That's a lot of people. It's more than the number of native English speakers! The red inlaid table shows the Top 10 Unsupported languages. These should be a priority for Microsoft's translation team. There are 98-135 million
Javanese
speakers, which is 10x more than the 9-10 million
Java programmers
. I'd like to make more graphs like this with programming languages, if I can find a good data source. There are 10 Windows languages with fewer than 1 million speakers:
Maltese (655,560), Maori (642,700), Norwegian Nynorsk (576,996), Icelandic (438,800), Luxembourgish (424,100), Cherokee (302,000), Irish (279,700), Scottish Gaelic (64,400), Inuktitut (35,000), Catalan - Valencian (13,000).
The bias towards European languages is probably because of pressure from the EU. This is not a bad thing,
per se
; it should be a call for other regional groups (ASEAN, ECOWAS, ODECA, UNASUR, Arab League, Pacific Union) to exert the same pressure that the EU does. To give all languages equal priority (I'm looking at you, 13,000 Valencian speakers) would require translating Windows to 2670 languages. Most of those sound small, but Norwegian? It turns out there are two dialects:
Bokmål and Nynorsk
. Both are supported by Windows. I got my population data from JoshuaProject, which doesn't separate those dialects. Therefore I used the Wikipedia value of 86.3% Bokmål to estimate the populations speaking each dialect. Dividing dialects means that values may vary between graphs. For example, Windows separates English (International) and English (United States). I modified the data, subtracting the population of English speakers in the United States. Microsoft calls it English (International), and English (United Kingdom) in other places. I'm biased because my passport is British, so I showed favo
u
ritism and made my native dialect look larger.

Figure 2 - Windows Languages 10 - 1 million
Why did I stop at 10 million? The long tail of this data continues much further. For Windows, I plotted the next 325 languages, and clearly the graph is dominated by red bars. I haven't drawn this graph for the other data sources, because I think the aggregate bars on the Over 10 Million graph shows the outcome well enough. When managers want to actually do something about supporting these languages, they can download my
Excel spreadsheets
.
Table 1 - Windows Strings Examples
This table shows an example of the data that made me start this project! Click
here
to open the table in a larger window, or download the Excel
spreadsheet
to see those strings in all 107 languages. From this, you can learn that the 關機 button is "Shutdown", and you can read the pinyin "guān jī" thanks to
Pingtype
. That might not seem important, but when you're connected to a remote server and want to Restart (重新開機), it's not easy to just press the power button if you choose the wrong menu item. I live and work in Taiwan, and using other peoples' computers is always difficult. Requesting a day of leave from my boss or filing a time sheet requires clicking several Chinese-labelled buttons in
Lotus Notes
on a remote server. When friends ask me to help them with their computer, I want to try my best, but it's not easy when I can't read. Language packs are installed by default in macOS and it's easy to change language, so I prefer to help Mac users. See the
developer documentation
for how I scraped the strings. My first dataset has one text file for each language. You can download the strings grouped by language here:
WindowsStringsByLanguage.zip
I then grouped the data by key instead of language. The second dataset is one file for each key (e.g. 12712 = Control Panel), with the translation to every language inside. You can download the strings grouped by key here:
WindowsStringsKeys.zip
If you just want to grep one string, find the key, and look it up in all languages, you can use the parser
here
to search. You can also see how the icons have changed between Windows 2000, XP, 7, and 10. The restart and power buttons have been removed in Windows 7 and 10, which is what caused the server issue I described above. The Pingtype column is a shameless plug for my Chinese-learning tool at
https://pingtype.github.io
.